Discover more from Inside My Brain
My personal blog about startups, tech, business, and life
Uber vs. Lyft - My Experience with Both Ride-Hailing Platforms
Until a few weeks ago, I was always an Uber rider and never tried Lyft. But in light of all the bad crap that has happened at Uber over the past few months, I decided to give Lyft a try. Here are some thoughts about my experience with both platforms.
Mobile app user interface
Both apps offer similar-looking screens, but the experience certainly differs. Here are the initial screens for both apps, captured on a Monday morning: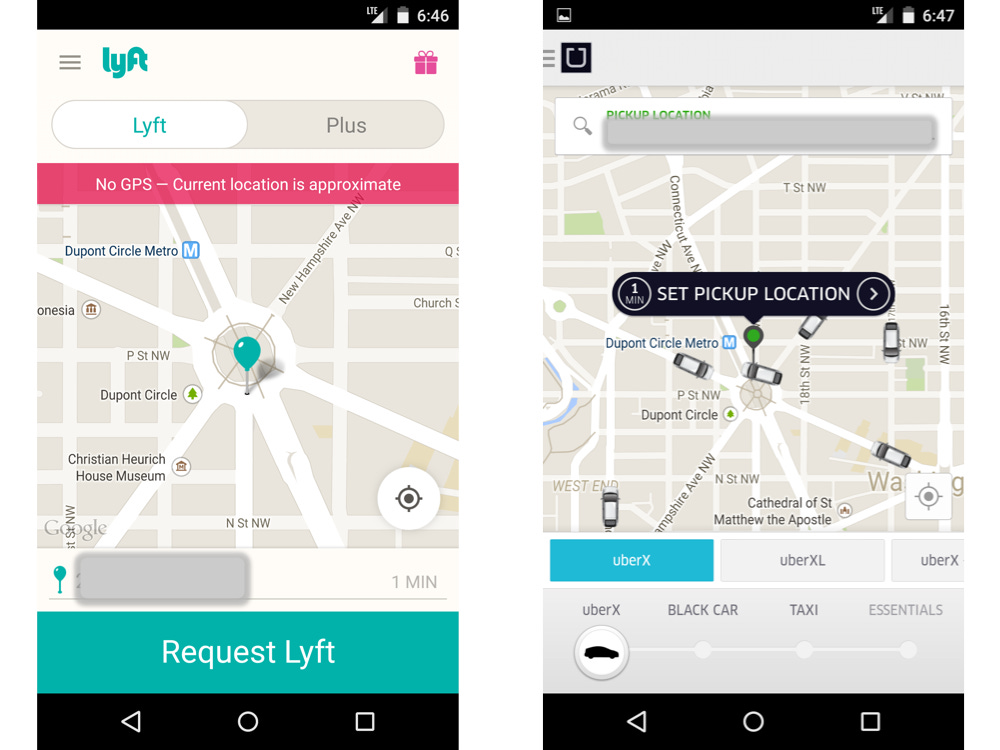 My first impression is that while the Lyft app tells me that there's a driver only one minute away, I don't see any cars on the map. On the other hand, there are plenty of Uber drivers close by. This may be because Lyft's map is zoomed in a bit more. Regardless, this visual is an important aspect of the interface that gives me a feeling of comfort that Uber has more cars on the road. Seeing fewer cars on the Lyft app is a pretty common occurrence, from my experience.
The next thing that I notice is that Lyft makes it easier to request a driver. The primary call-to-action is "Request Lyft," and all you have to do is tap that button and a driver will be summoned.
Uber, on the other hand, has a few more options on the screen, and its primary call-to-action is "set pickup location." It takes an extra step to hail a ride but gives you some options before you raise your hand. After setting your pickup location, you are sent to the confirmation screen:
Here you're able to get a fare estimate, which you can't do with Lyft. This is a nice feature that helps you make a decision on whether you ride an Uber or spend a little less money by taking Metro. You can also enter a promo code before booking a ride.
After the ride is over, both apps have similar screens where you can rate your driver. Lyft allows you to tip your driver, while Uber doesn't.
In-ride observations and informal driver surveys
I learned a good deal during my Lyft rides by observing the driving environment and chatting with the drivers. I've only taken seven Lyft rides in the last few weeks, so the sample size is small. This certainly wasn't a statistically significant experiment, but it gave me good insight into both of the ride-hailing companies.
During my rides, I noticed that all but one Lyft driver was also an Uber driver, and the one who wasn't said he applied to Uber but didn't get accepted. Interesting.
I asked all of the Lyft drivers who also drove for Uber what they thought about driving for both companies and which they preferred. Again, this isn't a big sample size at all, but here are my survey results:
All of the drivers said that Uber gives them more business. They mentioned that the number of rides that Lyft provides is growing, but Uber is still ahead by a big margin.

All of the drivers also said that Lyft treats them better with respect to driver support and culture.
I believe that the overall rider experience is a bit more seamless with Uber, but the difference isn't enough to foster any kind of loyalty. Because of Uber's recent bad behavior, I'll likely check Lyft first the next time I need a ride.
I hope you found this interesting! If so, please connect with me on Twitter, Google+, and LinkedIn for future updates.