Discover more from Inside My Brain
My personal blog about startups, tech, business, and life
Two topics - being sick sucks, and NFL on Twitter
I've been sick the last couple of days, so I didn't write a blog post yesterday. To make up for it, I'm going to write about two topics today. Yay!
Being sick sucks
First topic - being sick sucks. Not just because it physically doesn't feel good, but it makes me feel worthless.
As much as lying on the couch watching Band of Brothers and other TV shows sounds great, being sick makes me feel that I am shirking my other responsibilities, inconveniencing others, and disrupting people's schedules.
First, I got no work done the last couple of days, and that work is piling up. Doesn't make me feel good.
And I've had to move a bunch of meetings around. I had to cancel a podcast interview (I would have sounded like shit), and postpone some other calls and meetings. I don't like to disrupt other's schedules like that.
Also, I typically get my baby Maya dressed in the morning while my wife walks the dog. She and my mother-in-law have had to cover for me the last couple of days while I slept in. I'm inconveniencing them.
So while rest and relaxation is necessary to recover, my mind just didn't rest well knowing the residual effects of my sickness.
I just won't get sick next time. :)
NFL on Twitter
Yesterday, the NY Jets played the Buffalo Bills on Thursday Night Football, and it was the first NFL game ever live-streamed on Twitter.
I watched some of the game and it was pretty awesome (both the game and the live-stream).
Here is what it looked like (courtesy of Recode, that's not me in a supermarket):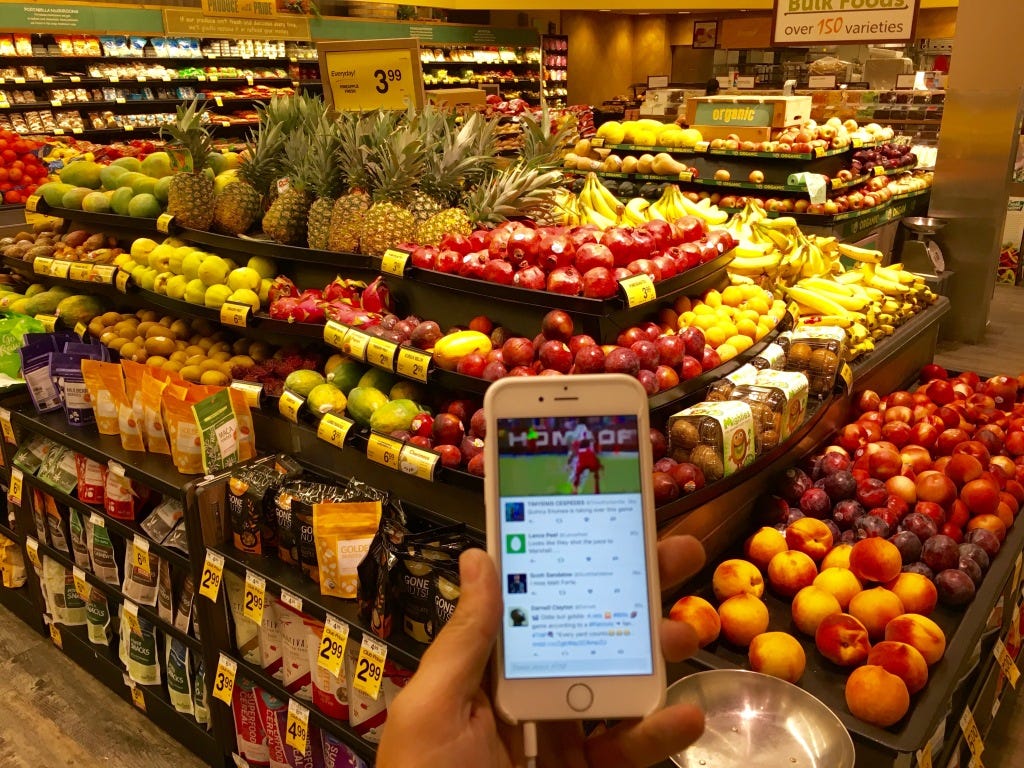 No buffering, no delay, and tweets right below the stream so you can engage with other viewers.
Twitter has been skewered for slow user growth and a confusing value proposition to new users. On the other hand, avid users love the platform for real-time discussion of current events.
That's why streaming NFL games is perfect for Twitter.
Sports is the most real-time content that you can get. Sports are essentially DVR-proof and discussions and debates about games being played are already happening on Twitter.
And the NFL is the king of US sports right now, so this should bring in many NFL fans to the Twitter platform.
And I see Thursday Night Football leveraging tweets in their broadcast more often in the future.
I think live streaming sports and other content will be the future of Twitter and it's a big step in turning the company around for the better.
What are your thoughts about being sick and the NFL on Twitter? Talk to me in the comments!
I hope you found this interesting! If so, please share this article with the share buttons on the left! That'd be awesome of you.