Discover more from Inside My Brain
My personal blog about startups, tech, business, and life
Trello vs. Asana - which is better project management software?
For the last couple of years, I've used Asana as my project management software of choice. I'm not really sure why I originally chose to use Asana other than reading some articles about it and realizing how beautifully designed the tool was when I first saw it.
Lately I've had so many people tell me how much they love Trello. So I've been testing it over the last few months to see if it's as good as people say, and whether it's a better fit for me than Asana.
Here's what I learned.
Overview of Trello and Asana
Trello
Trello is a simple but powerful web and mobile application based on the kanban board that Toyota popularized in the 1980s and used for their innovative supply chain management process.
The user interface is a board (which typically equates to a project), filled with lists (categories) of cards (tasks or ideas). The default board has lists that are named "To Do," "Doing," "Done," but you can organize and rename each board and list as you please.
The card is the atomic unit of Trello, and here's where you can create and assign a task or idea, build checklists, add notes, upload attachments, type comments, and more.
Here's a quick snapshot of what Trello looks like: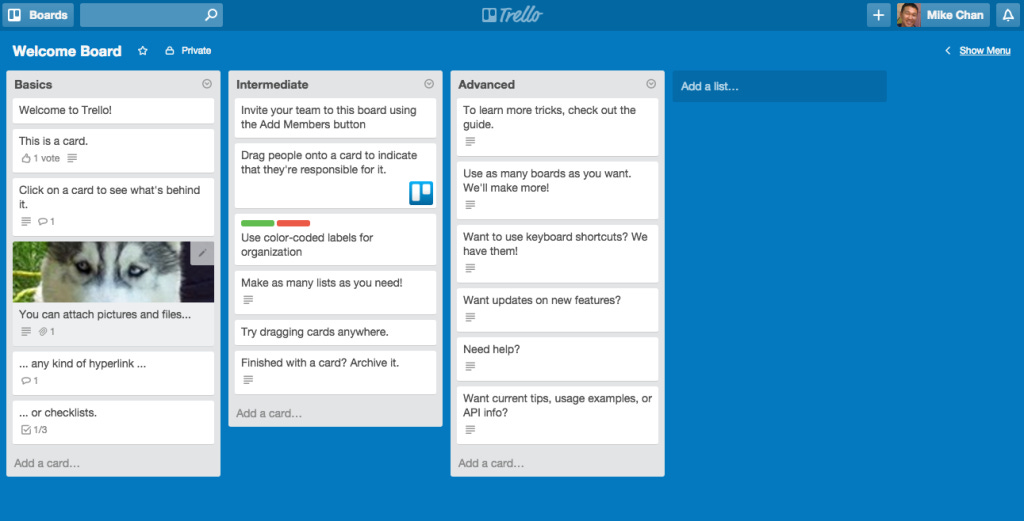 Asana
Asana is project management software with a bit more structure to it.
The first entity in Asana is the workspace, which is the rough equivalent of a Trello board. When you get into a workspace, Asana has a three-column interface:
The left column lists projects and members of the workspace

The middle column lists task info

The right column shows task details, where you can add attachments, create subtasks, add comments, and more
Here's what Asana looks like: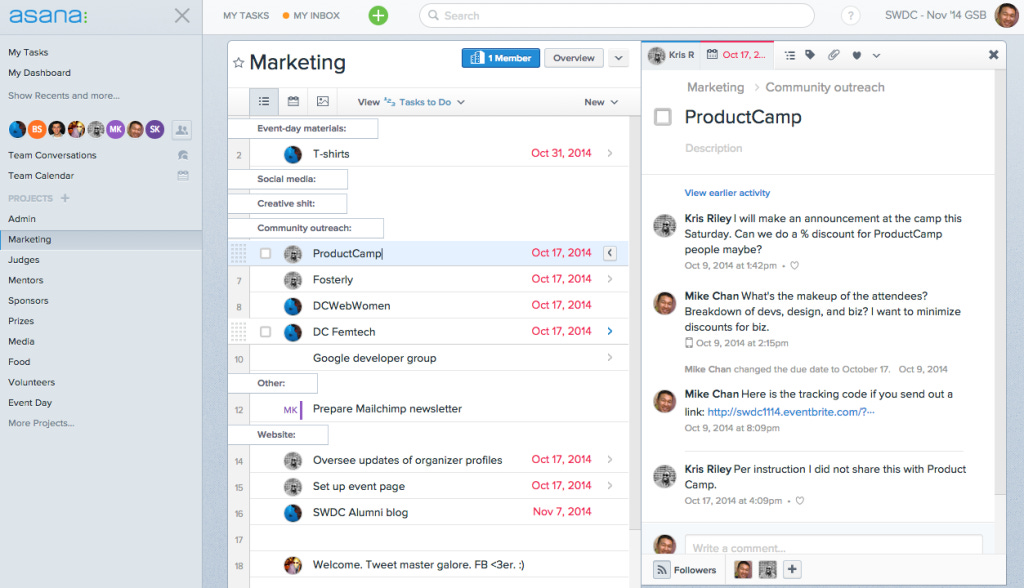 Trello's strengths
Super flexibility
You can do anything with Trello; it's not just limited to to-do lists and project management.
The standard thing to do with Trello is to create boards where you can log and organize your tasks by project. I've created task boards for projects that I'm working on, such as ribl, Thorn Technologies (one of my consulting clients), Startup Weekend DC planning, and personal projects.
But because Trello is so flexible, you can create a board for almost anything. I've created a Content Planning and Distribution board, where I log all the blog post ideas that come to mind as well as all of the channels where I can distribute my content.
I also use Trello as a lightweight customer relationship management (CRM) tool for the sales and business development that I do for my clients and my consulting practice. I'll create cards for each prospect and within each card I'll log call notes and create checklists for follow-up tasks.
As you can see, Trello is amazingly flexible and can be used to keep track of anything you can think of.
More visual
While Asana is beautifully designed, Trello is more of a visual tool. You can attach images and add color-coded labels to categorize cards. The app displays plenty of icons that represent checklists, votes, due dates, and more. You can even change the background image of your board. Check out the side-by-side comparison below, with Trello on the left and Asana on the right.
Moving cards around is really rewarding
I have a board that I call "Today's To-Dos" that lists all the tasks that I need to execute today. Whenever I complete a task, I'll move it from that project's list to the "Done" list. And there's something super rewarding about moving those cards, as opposed to checking off a box and having that task disappear, like in Asana.
And at the end of the day, when I see the board below, I can be pretty proud of all that I've accomplished.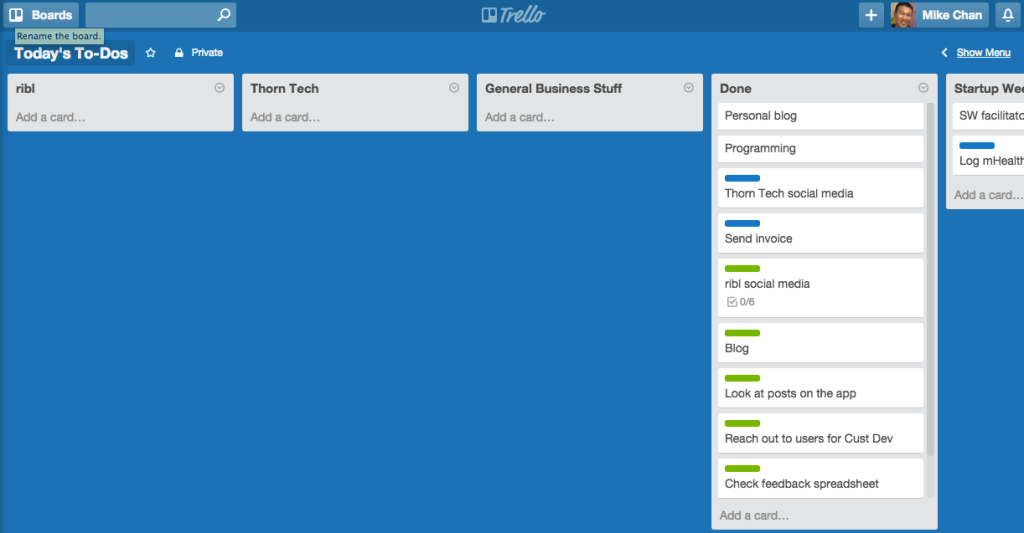 Today was a good day (cue Ice Cube)
Asana's strengths
Structure
While Trello's flexibility is extremely powerful, it may be too flexible for people who are looking for a tool to provide structure in their lives. In this case, Asana trumps Trello.
Asana provides many out-of-the-box features that will help you better organize your tasks and projects. The app lets you categorize your tasks by "Today," "Upcoming," and "Later," so you know what you need to work on and when. You can assign tasks to projects and easily navigate between views for projects and your specific tasks.
A big part of the structure that Asana provides better than Trello is recurring tasks. If you have tasks that you have to execute on a repetitive basis (e.g. every month I need to invoice my clients), Asana allows you to easily set these recurring tasks with a couple of clicks.
You need workarounds to do this in Trello. You can either manually copy cards over and over again, or just change the due date of that original card. You can also create weekly or monthly lists and copy those at the beginning of each week or month. Or you can use a Zapier integration to facilitate this. It's just not that easy.
Better email reminders
Many people hate receiving email, and understandably so. But my workflow depends heavily on email, and Asana's email reminders are amazing.
When you set a due date for a task in Asana, the system will send you email reminders:
One week before the task is due.

One day before the task is due.

The day when the task is due.

Every day the task is overdue until one week has passed.
Yes, that's a lot of reminders (up to 10 emails for one task!) but it sure as hell will get you to either complete the task or change its due date.
On the other hand, Trello will send one email reminder the day before the task is due, and that's it. For those who want to avoid email, this is great. But for those like me who depend on email as kind of a to-do list in and of itself, one email reminder isn't enough.
Dashboards
Because of the more structured philosophy of Asana, the tool is able to better track project progress with dashboards. Asana provides visuals of how many tasks have been completed and remain, and allows the project owner to provide descriptions and status updates about the project. This is a nice feature to get a quick snapshot on how the project is moving along.
Other factors to consider
Team collaboration
While I've primarily used Trello and Asana for personal task management, I have also used both apps to manage projects with other team members.
I didn't see much of a difference between the two apps in this regard, but that's probably due to the fact that I haven't used them all that often for team collaboration.
There may be many differentiating features with respect to team collaboration but I don't have enough experience to determine them.
Mobile apps
Asana and Trello have mobile apps that accompany their desktop counterparts.
Both apps are pretty easy to use and stay true to their design principles. I didn't see a major difference in quality of the mobile apps outside of the aforementioned differences in the desktop version.
So this isn't a differentiating factor for me, but it may be for you.
Integrations
I use upwards of 10 apps while working everyday and many of them can talk to and exchange data with one another. Both Trello and Asana have integrations with many other apps that I use, but I'm not a big user of these integrations yet.
Maybe I'll find out if there are major differences down the road, but right now, this isn't a big factor for me.
Conclusion
Trello and Asana are both great project management tools to keep you organized and productive. Selecting which app works best for you really comes down to personal preference.
For now, I'm going to stick with Trello. I think the visual user interface and flexibility of Trello trumps the structure and strong email reminders of Asana.
Have you used both Trello and Asana for project management? What are your thoughts about their differences, strengths, and weaknesses? I'd love to hear your opinions in the comments.
I hope you found this interesting! If so, please share this article, sign up for my email list below, and connect with me on Twitter, Google+, and LinkedIn for future updates.