Discover more from Inside My Brain
My personal blog about startups, tech, business, and life
Putting your life and career into perspective
Last weekend I returned from an amazing two-week family vacation in Thailand.
This vacation allowed me to take time away from work (I didn't even bring my laptop!), reflect on what's going on in my life, and enjoy time with family.
We spent a few days in Ko Samui, where my cousin got married in a beautiful ceremony. A bunch of our family stayed in a beach villa and had a great time.
We then trekked up north to Chiang Rai and Chiang Mai to hang out with elephants, tigers, nature, and lots and lots of Thai food. Check out my "Le Tigre" below. :)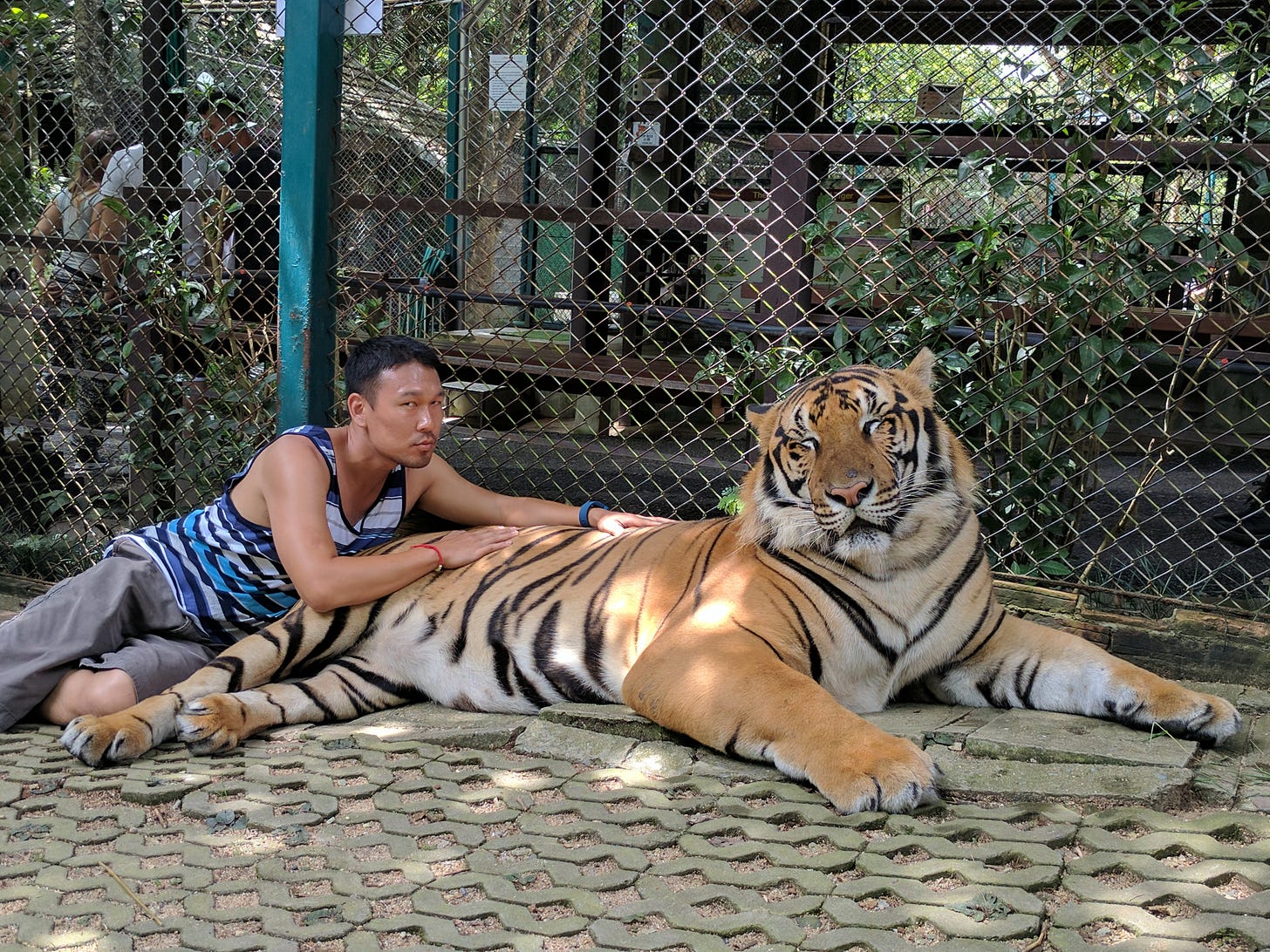 Zoolander would be proud
While on the trip, Steve Blank wrote a great blog post titled "Working Outside the Tech Bubble."  The gist of the article is that because he works in tech, he sometimes forgets that most of the world lives outside of the Silicon Valley bubble. He has a summer home in New England, and most of his neighbors don't know or don't care about who the ex-CEO of Uber is or what venture capitalist funded which hot startup.
Reading this made me think about perspective.
Like I mentioned in my last blog post, I've been feeling guilty about not doing enough in both work and my personal life. I often look at others' success and doubt myself and my decisions.
But when you put things into perspective, no matter how tough things get, it's never that bad.
I'm not saying to look down on others' hardships. It's more about appreciating what you have and all of the options in front of you.
While in Thailand, we were amazed at how cheap things are. Uber rides were all less than $3, most meals were cheaper than $5 per person, and hour-long massages cost around $8.
Yet all of those low prices may be normal or expensive for the Thai citizens. And those citizens are working really hard to make those wages that are super cheap to us.
Many Thai people live in villages, without the comforts of running water and electricity that we are accustomed to.
There's no doubt that people in the US still face hardships everyday. Crime, racism, and poverty are still rampant in society.
But by simply being born or living in the US, we're luckier than 95% of people in the entire world.
We don't have to face the threat of a suicide bomber day in and day out. Most of us have a roof over our heads with running water and electricity.
So whenever things get tough, I like to put things into perspective and appreciate how lucky I really am.
Sure, my career isn't going exactly how I'd like it to go. Things aren't perfect.
But it's always helpful to take a step back and look at what I have - an amazing family, a beautiful home, good health, and lots of opportunity - rather than what I don't have.
It's good to put things into perspective once in a while.