Discover more from Inside My Brain
My personal blog about startups, tech, business, and life
What I Learned from Indra Nooyi on Freakonomics Radio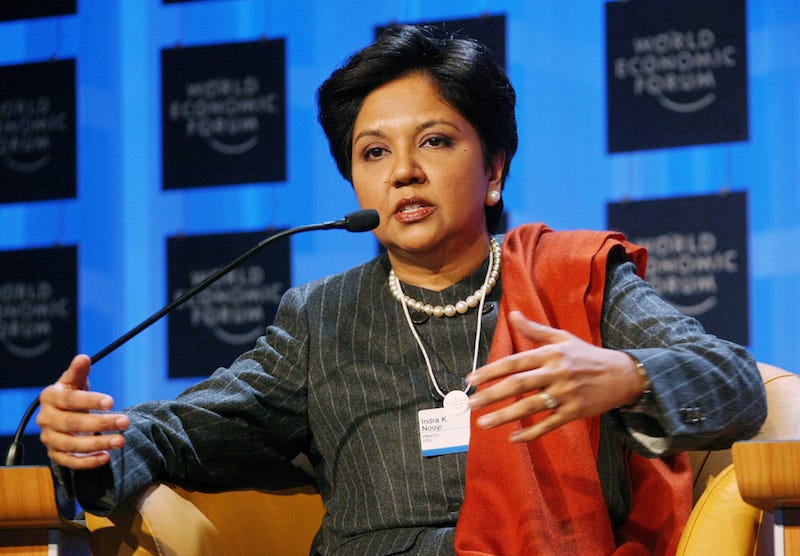 Image courtesy of Wikimedia Commons
I recently listened to an episode of Freakonomics Radio with Indra Nooyi, the CEO of PepsiCo. It was an amazing listen, I highly recommend it.
While Indra talked about so many interesting things she has experienced during her tenure at PepsiCo and her life in general, I took away three main points from the interview:
How getting close to the customer is all that matters

The importance of a STEM education, even for someone in the food business

Developing "adaptation strategies"
Let's dig deeper.
How getting close to the customer is all that matters
Around 13:50 of the interview, Indra talks about how men and women eat snacks differently. Men will loudly crunch on their chips, lick their fingers, and tip the bag to pour the remaining crumbs into their mouths. Women won't crunch out loud, won't lick their fingers, won't pour crumbs into their mouths, and like to store snacks in their purses.
Indra has institutionalized the importance of deeply understanding customers into PepsiCo and uses that knowledge to design all aspects of their products - from packaging, shelving, storage, all the way to consumption. She frequently scans supermarket shelves to see how products are displayed, and sometimes visits customers' homes to see how they're storing and consuming the product.
All of this research and knowledge goes into a bag of Doritos. Seriously.
No matter what industry you work in - food, construction, technology, or any other - if you truly understand everything about your customer, you'll be successful. You need to figure out how they select products or services, how they consume them in different scenarios, what their pain points are, and much more to add as much value as possible.
Importance of a STEM education
Around 16:40, Indra stresses the importance of having a science, technology, engineering and math (STEM) education.
How does the CEO of a global food and beverage company benefit from having a background in science?
Her education helps her better understand the science behind the research, development, and marketing of new, healthier snacks and foods.
Because nutritious foods are more highly scrutinized, PepsiCo has to back up these products with scientific facts. And the CEO needs to fully understand and communicate these facts to customers.
Additionally, knowledge of science helps her better grasp and communicate to her staff and Board of Directors why she is funding these scientific R&D initiatives and how they will get the company to a better place.
Indra mentioned that science is much harder to learn when you're older, and if you have that foundation in STEM, you can easily learn anything else along your career journey. So true.
Development of adaptation strategies
Finally, around 31:30, Indra talks about developing "adaptation strategies" to deal with the things that life throws at you.
Indra talked about how her mother told her to "leave the crown in the garage", meaning that even though she's the CEO in her career, she shouldn't act that way when she gets home. If she did, she wouldn't be a good mother, wife, or daughter.
I think development of these adaptation strategies is really powerful. If you don't adapt to your surroundings, you're going hate life. If you act the same way in every situation, you're going to alienate a lot of people, or be alienated by a lot of people. If you don't adjust to the environment around you, you might have difficulty moving forward.
I'm not saying you shouldn't be yourself. But there's a lot of value in recognizing the situation you're in and adapting to the environment.
Conclusion
Being the CEO of a massive international organization is a tough job. And Indra Nooyi basically laid out a blueprint on how to excel at it.
Regardless of what industry or function you're in, I would highly recommend giving the episode a listen. Let me know what you think of it.