Discover more from Inside My Brain
My personal blog about startups, tech, business, and life
The 3 Most Impressive Products I Interacted with at CES 2015
The International Consumer Electronics show is a massive, overwhelming experience. With over 3,600 exhibitors spread out across 2.2 million square feet of convention space, it's impossible to see all the products the show has to offer.
There were a few big themes - connected cars, smart home, virtual reality - and most of the show floor was dominated by huge corporations like Mercedes-Benz, Intel, and Oculus. But being a startup guy, I focused on some of the smaller brands and products that many may not necessarily know. Here is a short list of the cool products with which I interacted.
Emotiv Insight
Emotiv is a company that builds neuroheadsets, which allow you to control things in the real world just by thinking about them. Yeah, pretty crazy. I tried on the the Insight headseat; check out this super nerdy image of me wearing it: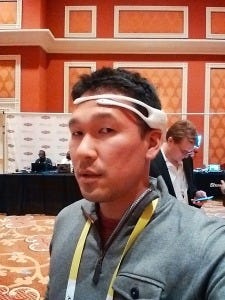 Using the headset, I was able to maneuver a car across a short racetrack just by imagining the car moving in my brain. What what whaaaaat?!?! The process worked as such. First, after putting the headset on, the Emotiv employee captured my brain activity at baseline - when I was thinking about nothing. Then he captured my brain activity when thinking about the car moving along the track.
After the setup, I was ready to roll. When the Emotiv employee said "Go!", I concentrated on the image of the car moving, and then it moved. Mind...blown.
Headsets like these are primarily used for research purposes at the moment, but I believe there's potential for partnerships with companies like Lumosity to better track and improve brain fitness.
HZO
HZO is a company that manufactures waterproofing solutions for consumer electronics. They've worked with Nike Fuelband and many other consumer electronics and wearables manufacturers to fully protect their gadgets from exposure to liquid.
HZO isn't making waterproof cell phone cases or anything like that. They're a nanotechnology company that is waterproofing electrical components from the inside so that gadgets can be fully immersed in liquid for an extended amount of time and still work. Check out their display on the show floor below, where a TV is completely buried in water and still works perfectly because the internal components are protected by the HZO waterproof coating: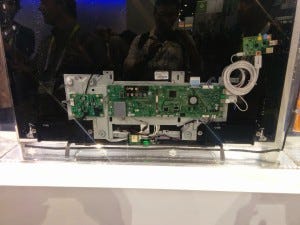 The HZO technology isn't an exciting, hands-on gadget, but it may be the most impressive thing I saw on the show floor this week.
ImmersiON VRelia
Virtual reality was a huge deal at CES and many industry analysts believe it will be the next life-altering technology. By the looks of the ridiculously long line at the Oculus booth, many attendees seem to agree.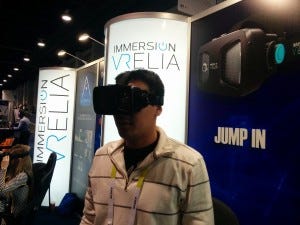 Instead of waiting on line to try Oculus, I visited the booth of a company called ImmersiON VRelia. While Oculus builds high-end, expensive headsets for intensive applications like gaming, ImmersiON VRelia is making VR more accessible by creating an $89 headset and mobile app ecosystem that turns a large smartphone, like the Samsung Galaxy Note or iPhone 6, into a VR experience.
Using the ImmersiON VRelia headset and app, I was able to walk through a virtual home and explore the living room, backyard, kitchen and bedrooms. The company is primarily working on educational applications but I believe that real estate and mapping are natural extensions of the technology.
Honorable mentions
Here are other products that I played with that were pretty interesting:
Blast Motion - a sports video analytics platform for golf, baseball and exercise

Meccanoid - build your own robot friend

Wowwee - artificially intelligent robots
Conclusion
I wasn't able to demo the majority of gadgets at CES but did get my hands on a bunch of cool products. Emotiv, HZO, and ImmersiON VRelia were the most interesting and I think these companies are on to something big and hope to hear more about them in the future.
CES is the equivalent of an amusement park for nerds just like me. I had a great time checking out the products of our future and hope to do so again next year.
What do you think of these products I mentioned? If you attended CES, what products did you think were interesting? I'd love to here from you in the comments.
I hope you found this interesting! If so, please connect with me on Twitter, Google+, and LinkedIn for future updates.