Discover more from Inside My Brain
My personal blog about startups, tech, business, and life
A case study in customer relationship management: Time Doctor
In December 2013, I wrote a guest blog post for the CEA titled "10 Essential Tools and Resources for Entrepreneurs to Get Stuff Done" that highlighted the various software tools and other resources that I use on a daily basis to run my startup and consulting business. That post generated a lot of interest (for me), as it garnered over 10,000 page views and 1,100 Facebook Likes.
The post also sparked the creation of a great case study about social media monitoring, customer relationship management, product trial and eventually, customer conversion.
One of the tools that I wrote about in that blog post was a time-tracking tool called Paymo. I mentioned that the tool was free, which is great, but the interface and functionality of the app lacked a bit (note: the tool's features and functionality have been updated dramatically since the writing of this post; you can read about it in this review). A few months ago, the head of online marketing of a Paymo competitor named Time Doctor read my post and subsequently reached out to me via email with an offer for a free license.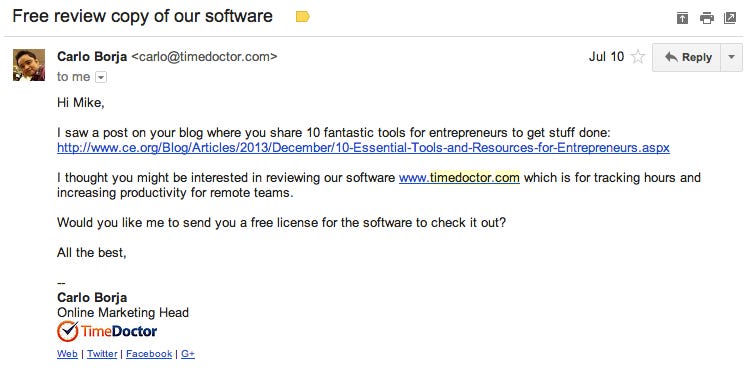 With nothing to lose, I gave Time Doctor a shot.
Initially, I didn't feel the need to switch to a new time-tracking app, as Paymo was serving me just fine. But as I continued to use Time Doctor, I realized that it solved issues that I didn't know I had.
The Time Doctor desktop app views my screen, recognizes when I might be diverting attention away from the task that I was working on, and asks via a pop-up whether I was still working on said task. Many times this feature keeps me on track and focused on the task at hand.

Also, whenever I step away from my computer while working on a task, Time Doctor tracks the time I've been away and asks whether I was on a break or working on that task, and categorizes my choice accordingly. Apparently, I unknowingly step away from my computer pretty often, and this feature helps me track that time easily.

Another nice feature is that the app sends me a daily email of the time I spent working so I can see how much I've been slacking off. That's a pretty good motivator.
While I like the app, I really like how the Time Doctor team found my blog post, engaged me, offered me a free license, and followed up to see how I like the tool. And when I responded with some comments, one of the company's co-founders personally emailed me an update about upcoming feature changes and improvements.
Amidst a cacophony of generic email blasts and online banner ads, this kind of one-on-one attention is certainly appreciated. And while it's not a scalable user-growth activity, it can pay dividends in the form of converting a customer and even getting a blog post written about the product. Props to the team at Time Doctor for building a solid product and putting together a really responsive team!
I hope you found this interesting! If so, please connect with me on Twitter, Google+, and LinkedIn for future updates.
Note: Time Doctor did not pay me to write this blog post. I did it all by myself!